Cardi B Calls Takeoff An Angel Following Murder Suspect Indictment
Cardi B salutes fallen rapper Takeoff in a tribute following the indictment of the man accused of firing the fatal shot.
The late Migos rapper, Kirsnick Khari Ball, was shot and killed on November 1, 2022, in Houston. According to law enforcement, Takeoff was an innocent bystander at an event with his fellow Migos, Quavo, who reportedly got into an argument with other men over a dice game.
Murder suspect Patrick Xavier Clark reportedly fired shots and two of which hit Takeoff in the head and torso killing him at the age of 28. His death sent shock waves throughout the hip hop community, and especially Offset and Quavo have been on an emotional rollercoaster since the rapper's untimely death.
Cardi B also shared on multiple occasions how she felt about Takeoff. Yesterday (May 26), she shared a photo of the Atlanta rapper with a tribute calling him an angel.
"What an angel god bless[ed] this Earth with," Cardi wrote. "Protect your brothers and your family. I know you see the tears I know you see them looking at the sky askin why….. What a beautiful soul to take."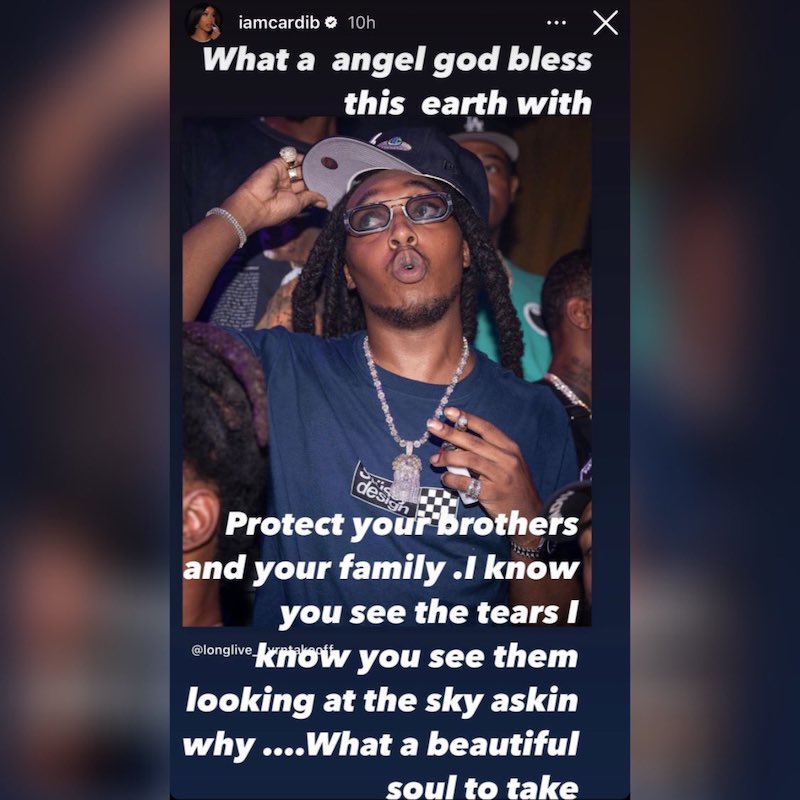 In the meantime, Patrick Xavier Clark was officially charged with Takeoff's murder on Thursday when a grand jury concluded that there was enough evidence to bring charges against the 33-year-old, who is currently out on a $1 million bond. Clark's attorney, Letitia Quiñones-Hollins, said in an interview with CNN that the defense team expected the indictment.
"We would ask people to remember that getting an indictment requires meeting a very, very minimal standard of proof," she said in a statement. "When we get inside a courtroom and in front of a jury, where we will be able to put on our evidence and cross-examine the state's witnesses – where the standard of proof is guilt beyond reasonable doubt – we expect the jury will come back with a verdict of not guilty."
The Harris County District Attorney's Office did not release any further details on the indictment, but it's a sigh of relief for Takeoff's family and fans since it is the first step toward justice. It's also not clear if Clark's bond will be revoked after the indictment.
Since Takeoff's death in November last year, Cardi B has paid tribute to him on numerous occasions, and her husband and former Migos, Offset, even got a large tattoo of the late rapper on his back.