Burna Boy Fires Back At Davido Calling Him 'New Cats' In Afrobeats
theblaze
June 10, 2023
58

5 minutes read
Davido made a statement that rubbed fans and perhaps even Burna Boy himself the wrong way.
The Afrobeats community is, for the most part, drama free, or at least devoid of the intense in-fighting that we have become used to seeing in certain other genres. However, it seems some are trying to stir the pot to start some beef in the Afro-centric genre based on a small snippet from a statement that Davido made.
During a recent sit-down interview with Brut Afrique, Davido unwittingly stuck his foot in his mouth while in a discussion about Afrobeats' rise to global fame. The Nigerian-American singer explained that he was one of the early pioneers of the music along with Wizkid and said it feels good to see the 'new cats' like Burna Boy, Rema, Fireboy, Asake, Majorkun, and so on coming and killing it. This statement sparked a widespread debate, with the moot questioning whether Burna Boy should be categorized as a 'new cat' or not.
Granted, Davido has been on the scene for over a decade and has been working assiduously ever since to stay consistent with releases and noteworthy international collaborations like "Fans Mi" guest starring Meek Mill. Many agree that he was, in fact, one of the first Afrobeats artists to blow up in a sense.
Meanwhile, Burna Boy, who has also been on the scene for just as long, got his big break around 2018 with his monster hit "Ye." When Billboard introduced the Billboard U.S. Afrobeats Songs chart in association with Afro Nation in March 2022, Burna Boy completely dominated. The Grammy-winning singer has a No. 1 hit on the chart, along with 8 top-10 tracks and 28 entries overall.
The ongoing debate online about Burna Boy being classified as a new cat by a veteran like Davido even left the African Giant himself to drop a subliminal online. Burna took to Instagram Stories to write, "What color is your Bugatti?" after the snippet from Davido's interview went viral. The "Last Last" singer's sister also chimed in, taking to Instagram to post a video to her Story of her brother performing on stage at London Stadium to 80,000 fans. She wrote, "new cats dey face their hustle" across the clip she posted.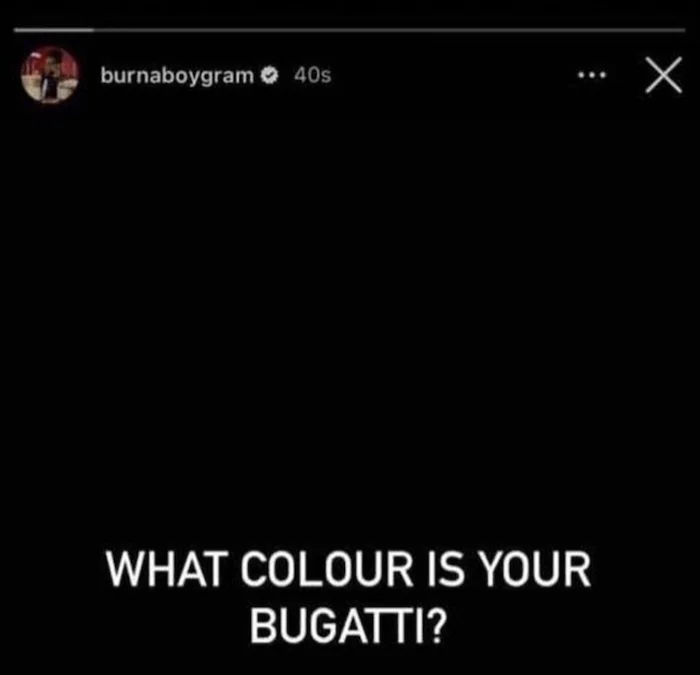 Interestingly enough, Burna Boy's producer and music video director also joined the conversation when they went to Twitter to help naysayers brush up on their history. Adasa Cookey, who directed Burna Boy's music video for "Like to Party," shared a screenshot of the YouTube video with the caption, "I shot this in 2012. Over a decade later he is so [relevant] that he's still a 'New Cat'." Also, Leriq, who produced a ton of hits for Burna under Aristokrat Records, had this to say: "If you know, you know… if you no know, you no know !" he tweeted.
The original video that sparked this conversation was posted by DJ Akademiks, who asked fans to chime in with their thoughts. The hip-hop commentator is known to be a bit messy at times when it comes to the tea, so fans were comfortable speaking freely in the comment section. "He's jealous Burna is carrying Africa on his back rn. Davido never sold out 80k capacity stadiums lol. Davido just a trust fund kid," one fan asserted. "Davido is bigger than Burna boy," another wrote.
Upon analyzing Davido's statement, it begs the question, was it objective or subjective? Some of the more impartial takes that were documented include this popular comment from one fan who said, "While I respect Burna Boy's talent, Wizkid and Davido were known artists since 2011, 2012. That's only in 2019 that we knew BurnaBoy." A more comprehensive view was, "He's technically right. They blew before Burna did. But burna impact is bigger."
Davido likely started this whole debate unintentionally and may have merely been trying to give these other Afrobeats artists a huge compliment. Clearly, it is his opinion that Burna Boy is a 'new cat', and he possibly did not expect anyone to be hung up on the semantics. After all the uproar, who knows if he will stick to it or take it back? Where do you stand on the African Giant being put in the 'new cat' category?